This page is dedicated to new and exciting topics and discussion points relating to pets, Capital Veterinary Specialists, and veterinary medicine.
Dr. Crane is now on staff at Capital Veterinary Specialists!

Dr. Courtney Crane - board-certified critical care specialist!

We are excited to announce the opening of our critical care department, led by Dr. Crane starting June 29th. This new department will support all aspects of internal medicine, surgery, and urgent care and will be available for same-day transfers and consultations on critical patients. Stay tuned!

Dr. Courtney Crane, a Florida native, graduated with honors from Ross University School of Veterinary Medicine. She then went on to complete a 3-year emergency and critical care residency program at Tufts University Veterinary Medicine. She achieved diplomate status with the American College of Veterinary Emergency and Critical Care in 2016 and served the communities in Maryland and Washington, D.C. from this time until her return to Florida in 2020.
Dr. Crane's professional areas of interest include sepsis, fluid therapy, immune-mediated hematologic diseases, and rattlesnake envenomation. Outside of work she enjoys travel, live music, exercise, spending time with friends and family and spending time outdoors

Achievements:

* 2018-2020: Associate Criticalist - Friendship Hospital for Animals, Washington, D.C.

* 2016-2018: Associate Criticalist - Pet+ER, Towson, MD

* 2016: Board Certification - American College of Veterinary Emergency and Critical Care

* 2013-2016: Emergency and Critical Care Residency - Tufts University, N. Grafton, MA

* 2011-2013: Associate Veterinarian - Emergency Animal Clinic, Scottsdale, AZ

* 2010-2011: Rotating Internship - Southern Arizona Veterinary Specialty and Emergency Center, Tucson, AZ

* 2010: Doctor of Veterinary Medicine - With Honors - Ross University, St. Kitts, West Indies
Our Santa Rosa Beach office is opening on August 30th!
We are pleased to announce the opening of our Santa Rosa Beach office. The new office will be open Friday, August 30th and we are now scheduling appointments for internal medicine and surgery. The office is located at 2842 US Highway 98 West Suite B Santa Rosa Beach FL 32459

For appointment scheduling and more information, please call our Tallahassee office. 850-597-9764.
As of August 1, 2018, we will be offering Urgent Care services 7 days a week from 10am - 10pm.
We are now open for business in our new 11,000 sq foot specialty hospital located on a two acre campus at 1615 Mahan Center Blvd. Our new facility has on site CT imaging, under water treadmill therapy, 9 patient exam rooms, centralized ICU, two operatory suites, ultrasound suite, internal medicine/ chemotherapy suite, isolation ward, long term medical boarding and open treatment exam area.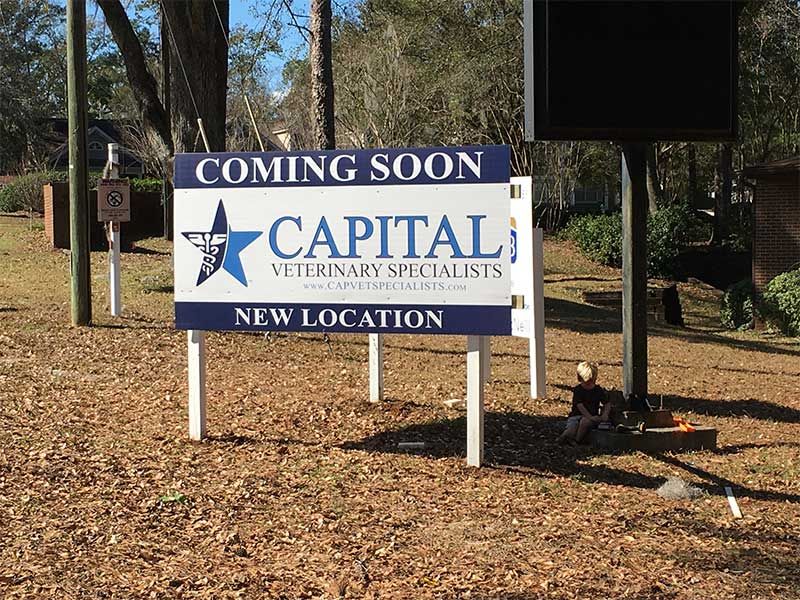 Capital Veterinary Specialists is excited to announce that we now offer PennHIP certification! If your dog is a high-risk breed for hip dysplasia, come see us for a consultation.
Capital Veterinary Specialists is excited to announce that we are now mobile! See the brochure below for details.
As part of our dedication to you and your patients, Capital Veterinary Specialists is excited to expand our services to include transportation for stable patients in need of specialty care. Now, clients in need of referral who are unable to make the drive due to scheduling, work or distance can now take advantage of our compassionate and cutting-edge care.
ROUTE INFORMATION:
Pick Up / Drop Off | 9:00AM | Every Tuesday & Thursday
Panama City Animal Hospital, 4307 US-231, Panama City, FL 32404
QUESTIONS? WANT TO LEARN MORE: